HMSHost continues his unique way to elevate the culinary experience for travellers by following their trends and demands, thanks to its innovation and creative expertise. For the 5th time in a row, HmsHost brings the success of the popular streed-side Restaurant Weeks concept, in more than 50 restaurants across dozens of North American airports but for an entire month.
The special seasonal menu takes passengers on a culinary trip before their travels even begin, with a special attention to their "need for speed".
Menus vary by restaurant location, with select restaurants offering special customised menus that spotlight their own flavours.
Some examples from the October 2018 festival include:
Roasted Chicken Breast with basil pesto and sage chicken jus, roasted mushrooms, asparagus, and butternut squash puree
Grilled Pesto Shrimp Wrap with baby kale, roasted mushrooms, butternut squash puree, peppers, and asparagus
Vegetarian Flatbread topped with basil pesto, goat cheese, butternut squash puree, tomato compote and, sunflower seeds
Seared Salmon topped with basil pesto and a butternut squash puree 
Better Than Bacon Burger topped with fontina cheese and bacon tomato compote
All is served with roasted mushrooms and asparagus, crispy smashed potatoes tossed with baby kale, along with a serving of fresh fruit.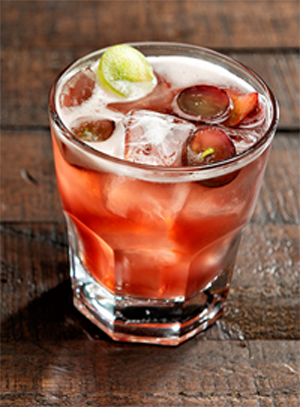 To further enhance the dining experience, HMSHost's sommeliers have matched suggested wines for each dish creating the perfect paring.
The special one: Temptation cocktail
Exclusively travelers can enjoy this Signature cocktail made with Templeton Rye whiskey, a touch of Malbec, along with maple syrup, fresh lemon and grape.