San Francisco-based Super Duper Burgers is now introducing its brand, burgers, and breakfast menu to international travelers. Autogrill Group and its San Francisco restaurateur partner, April Spears, opened two weeks ago the newest outlet — the 13th since its 2010 founding — at San Francisco International Airport.
Super Duper Burgers can be found in Terminal 3, Boarding Area F: the place it's deeply aligned with San Francisco International Airport's vision to provide good, clean, and fair food which has been responsibly sourced and deliciously prepared. Super Duper Burger, as a brand, is different: from their famous (free) house-made pickles, to the hand-painted signage, to their cheerful staff, they build their restaurants like they build their burgers-sustainably, locally, and with an unwavering commitment to quality. Super Duper Burgers works with local farms and suppliers to not only reduce their carbon footprint, but to create unparalleled flavors. All Super Duper packaging is 100% compostable.
Taste different!
"Fast food burgers. Slow food values."
That is the Super Duper Burgers motto.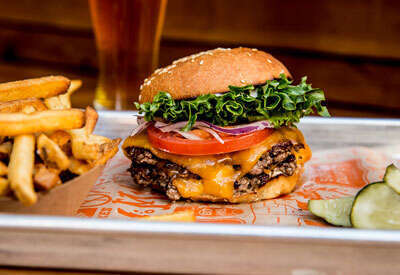 The restaurant provides a high-quality take on traditional fast food in a fun, friendly, retro-inspired environment. The menu features signature burgers using vegetarian-fed beef from local ranches, ground fresh daily, free-range chicken sandwiches, organic veggie burgers, french fries, and garlic fries with fresh garlic and six-month aged cheddar. The buns and ciabatta rolls are baked fresh daily by local artisan bakers using non-GMO ingredients while all vegetables and canola oil are non-GMO as well.
In addition to Super Duper's signature juicy burgers and sandwiches, travelers can feast on other delights including unlimited house-made pickles, a "Super Salad," organic Straus Creamery soft serve ice cream served as a shake or in a cone, along with a variety of local beer and wine.
Super Duper's popular breakfast menu is available for travelers with an early morning flight. Breakfast favorites include house-made mini donuts, an organic egg sandwich with a choice of bacon, sausage or avocado, along with Mr. Espresso coffee and fresh-squeezed orange juice.
"The name says it all! Burgers and sandwiches are popular choices for airport travelers and homegrown Super Duper Burgers is taking it to a new level for our traveling guests. We're thrilled to partner with the San Francisco International Airport team on delivering the most in-demand food choices such as the area's favorite burgers and other delights to SFO world travelers."
-Amy Dunne - HMSHost Vice President of Business Development