An authentic Irish experience
The new bar restaurant, launched at the end of October, works with a number of Irish suppliers in order to offer the best of typical local products through breakfasts, light bites and more substantial main dishes.
It's a different food and beverage offering to any other outlets in the airport.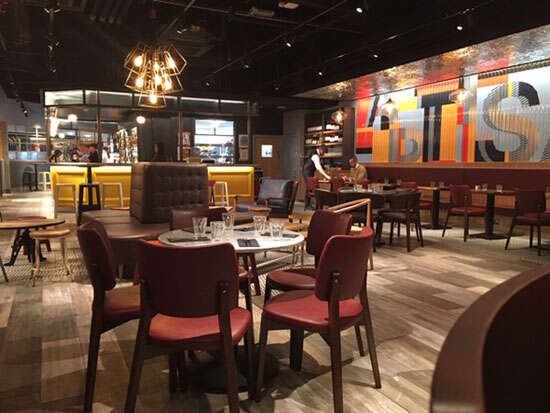 A broader choice for customers
The Artisan represents a
25% increase in food and beverage facilities
and caters to the needs of the
2.6 million passengers
who use Belfast City Airport each year.
Discover
here
a full list of food outlets which includes coffee shops, sandwich bars & a traditional Irish pub venue.
The Irish distinct atmosphere is realized with timber counters, corrugated panels and feature light wall complemented by touches of brass and glass. Passengers feel at home and enjoy their culinary experience in total relax. It seems perfect for a conversation before boarding a flight.
The new 280 sq. m. Artisan restaurant opened in the airport, which is located just five minutes from Belfast City Centre, can welcome over 100 people and thanks to HMSHost International - Autogrill Group subsidiary focused on international development - is a big part of its £15m investment aimed at enhancing the customer experience.