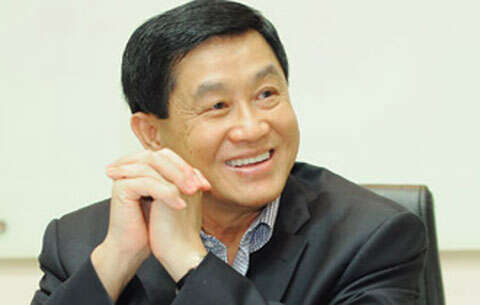 Johnathan Hanh Nguyen welcomes us with a smile and leads us to the armchairs in the Star Café. Despite being one of his country's most influential men, he proves to be a person of great simplicity and politeness, making sure we are comfortably seated and personally ordering our refreshments.
He is our host here: president and founder of IPP, the biggest Duty Free operator in Vietnam, a group also active in the Food & Beverage sector with bars and restaurants in city centres and the country's main airports. The bar we are sitting in is one of these.
Johnathan and Autogrill first crossed paths in 2012, when the Italian group was looking for a partner in order to penetrate the Vietnamese market and IPP, one of the leaders in this sector, had important growth plans. On paper, a partnership capable of playing a leading role.
The agreement was signed about a year later: IPP became Autogrill's strategic partner for development in Vietnam.
On 9 April 2013, Gianmario Tondato Da Ruos, CEO of Autogrill, welcomed the agreement with these words:
"This operation takes us into a country with great growth potential and strategic importance for further development also in the other channels of Vietnamese mobility and emerging markets in Asia".
Sipping a cup of green tea, he tells us that IPP brought to the partnership "no fewer than 28 locations, the ones we already managed under licence at Ho Chi Minh, Da Nang and Phu Quoc airports". With a smile he adds that this was only the beginning.
He shows us one of the documents he has on the table: according to the development plan, 2015 will see Autogrill and IPP operating in the six biggest airports in this country, with 80 sales points.
A partnership that has shown it works, drawing maximum advantage from the opportunities that have presented themselves.
"We can look to the future with a certain amount of optimism. Vietnam is an emerging market, the middle class continues to grow and for those operating in our sector, this is fantastic news. With a partner like Autogrill, we will definitely manage to make the most of the chances we encounter along the way".
Well-placed confidence in the future. After China and India, Vietnam is the country forecast to experience the greatest growth in terms of passenger traffic, with an average increase of 8.6% through to 2020.
When we ask him which elements, at that time, counted most in the decision to set up the partnership, Johnathan answers that the image of Autogrill definitely carried considerable weight, a reputation recognised all over the world.
"Our immediate thought was that working with a partner like Autogrill would mean gaining a great deal of credibility with airport operators, due to the fact that we would improve the traveller experience".
Thought up to satisfy the needs of all travellers, whether local or international, Autogrill-IPP food services include a range of food and coffee beverages that team international brands, Asian restaurants and concepts from the Autogrill portfolio, some of which have been developed ad hoc for this particular market, such as the Star Café.
"Our range provides a perfectly balanced mix suited to the tastes of transit passengers at local airports and international terminals". 
When the time comes to say goodbye, we ask him where he prefers to have lunch on his visits to this airport. 
"At Big Bowl". We decide to follow his advice.