Villefontaine: an attractive offering in a strategic place
Located near Lyon and covering an area of 22,000 m2, The Village in Villefontaine will eventually have a total of 120 stores and a 150-room hotel.
Autogrill chose this place because of its strategic position and a catchment area of exceptional potential. Close to the A43 motorway, it can count on a daily flow of around 30,000 cars. It's near Lyon in the Rhône-Alpes region, the second biggest economic centre in France after Paris: there are two million people living within a 30 minute drive and six million within a 90 minute drive.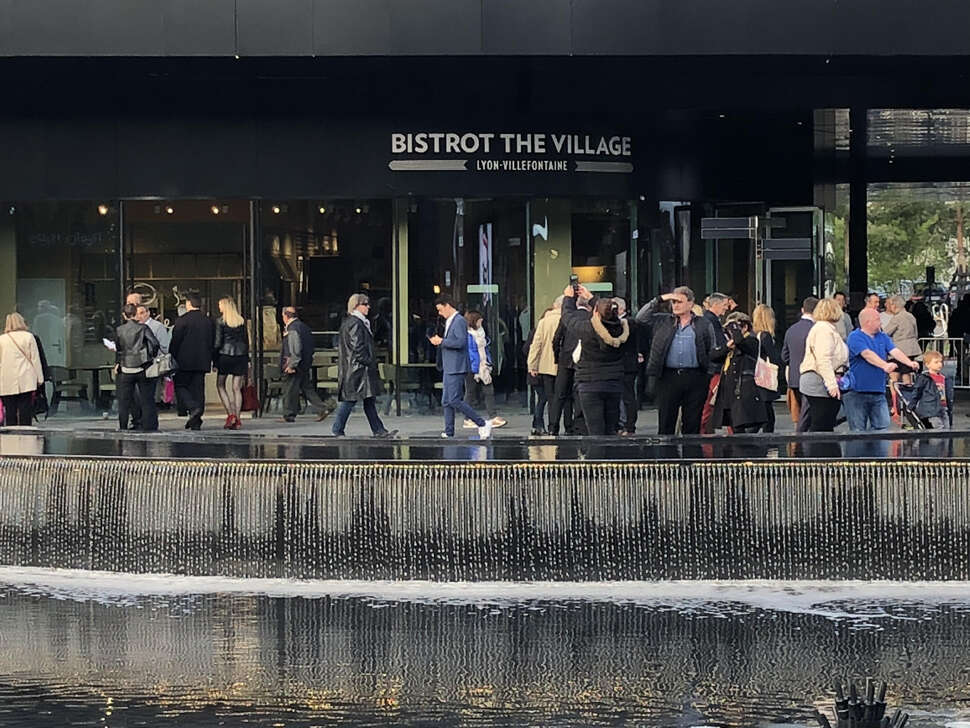 It was an opportunity Autogrill was determined not to miss, because it was sure of being able to successfully respond to consumers' expectations and current trends by deploying its hallmark skills:
installation of innovative digital instruments that give consumers full, multilingual information about products and the possibility to "personalize" their meals;
a genuine high quality offering reflecting the true characteristics of the territory;
attentiveness to consumers' needs in offering a personalized customer experience based on profound and consolidated knowledge of the field.
Bistrot: for lovers of food
One of Autogrill Group's most successful brands, Bistrot is now aiming at full recognition in France too, having already enjoyed an excellent reception in some 26 points of sale worldwide (Germany, Switzerland, Canada, China, and Italy of course).
Bistrot is the fruit of an exclusive partnership between the Group and the University of Gastronomic Science in Pollenzo and its mission is to offer high quality local products. True to short supply chain principles, it privileges in-season ingredients from suppliers selected for the quality of what they make in the territory in which the Bistrot is located.
Bistrot - The Village covers some 545 square metres in a setting reminiscent of a market and with a design drawing on both contemporary and vintage. It has four counters at which customers, inspired by the menus, can compose their own Lyon "terroir" and eat healthy food prepared and cooked on the spot:
The Boulangerie corner (with a Juice Bar) is a delight for the nostrils: a bakery whose bakers work with sourdough and craft flour (Moulins Bourgeois). The Juice Bar completes the offering with fresh fruit juices and hot drinks.
Fresh pasta is made and cooked to order in the pasta area, where customers can choose between five types of dressing a day, including old favourites like pesto, meat sauce and carbonara.
The "Street Food" corner offers lasagne, gnocchi, risotti, saltimbocca alla romana, Lyon sausages and other delicious local products, not to mention French fries and batter-fried squid and pumpkin flowers.
And lastly, a wine store and a small delicatessen will be featuring local produce like, for example:

cured meat specialities by Padre Anselme, a family business (5 generations, over 160 years) considered part of Lyon's history;
a wide selection of fine cheeses from the Champaret dairy;
local craft beers from micro-brewery Ninkasi, 100% natural and made in the Lyon area since 1997; the company has 10 establishments, a brewery and a distillery;
ice creams by L'Arbre à glaces, a craft ice cream maker based in Saint Étienne.
Bistrot's objective is to give lovers of fine eating a place where they can feel at home, somewhere made to measure just for them. In addition to the normal tables, there's an area with armchairs and also a spectacular terrace in which to enjoy one's meal in absolute tranquillity.
Starbucks: much more than a café
Starbucks is a byword for coffee, anywhere in the world. Its "coffee lounges" are meeting points both for people in a hurry and for those who want to relax in a peaceful and comfortable place.
Starbucks also offers a vast range of hot and cold drinks such as cappuccino, macchiato, Viennese chocolate, Frappuccino and many others prepared by professional bartenders, not mention a huge selection of sweet and savoury specialities (muffins, cakes, salads, sandwiches and croissants) served at any time of the day in an industrial loft style ambience that's very warm and welcoming.
The Village's Starbucks, the 7th to be operated by Autogrill Group in France, covers 158 square metres and seats 55 people, including 11 on its outdoor terrace.