Our journey starts with Gunter and Ester, a Dutch couple who love Italy and have planned a holiday on the Romagna coast this year too. As they do every summer, they've decided to us e a car so they are freer to move around. After a dawn start and endless km on hot asphalt, it's time to take a break, a nice gratifying stop off.
Keeping up their good motorway habits, our friends traditionally stop at the Secchia Ovest service area, but as soon they drive in they realize everything's changed: it looks a new place and breathes an atmosphere in line with typical romagnola hospitality.
"Look Ester, what an incredible choice!" Ester is already wandering around the location, immediately hooked by the myriad fragrances. The first to strike her is the coffee aroma in the Kimbo corner, and Gunter instantly knows, from her hypnotized stare, that it's not going to be easy getting her away from there. In-season fruit and vegetables, the leavening of real Neapolitan pizza, cooked in a wood oven, inviting pastries. And tortellini, passatelli with Parmigiano Reggiano, Piadina Romagnola (hand made), the intense red of locally made Lambrusco: an explosion of colour and flavour that is a tribute to and celebration of Romagna's food and wine excellence.
A gourmet stop-off
At Secchia Ovest (Modena) you'll find the best of Italian and local culinary culture. It's an enviable spectacle: from the light-filled glass entrance dominated by the two brands – Eataly and Autogrill – to the interiors, where the simplicity and essentiality of the furnishing are designed to welcome customers, ensure a pleasant and revitalizing rest and point up the freshness and naturalness of the tastefully displayed craft products.
Sustainability, responsibility and sharing are the founding values of these two great enterprises which celebrate Made in Italy.
A partnership capable of satisfying the needs and desires of modern travellers.
The philosophy of Eataly
Concentrate on high quality products that are affordable thanks to direct producer/distributor relationships.
The determination of Autogrill
Innovate and diversify its offering in the motorway channel.


Here the "grab-a-bite and go" concept does not exclude another, slower dimension, a stop-off that grows into a metaphor for new ways of eating, less frenetic and more flavour oriented. Anyway, it only takes 8 minutes to enjoy some good pasta!
Everything is organized to this end: 1,702 m2 on two levels, with the ground floor dedicated to exploring flavours and the 1st floor offering three table service restaurants seating 350. There's literally room for everyone!
The italian Food Valley
Strategic hub and crossroads, Modena immediately lent itself as the ideal location for this unique point of sale.
Coordinates

44°39'44″N 10°51'21″E
The new point of sale is on the A1 between the junction with the A22 and the Modena Nord barrier.
It attracts flows of Italian but above all foreign travellers driving out of Milan's airports to the coasts. Their stop-offs along the motorways thus give them a "first impression" of Italian culinary taste, in a territory which, not surprisingly, has a great gastronomic tradition that's recognized all over Europe.
Emilia-Romagna, leading European food producer
1st by number of PDO and PRGI products (41)
2nd by number of food companies (7,676)
5th by number of employees (around 70,000)
Source:
Agricoltura Regione Emilia-Romagna
The interview
With Eataly x Autogrill you eat better and travel better
Gianmario Tondato Da Ruos- CEO Autogrill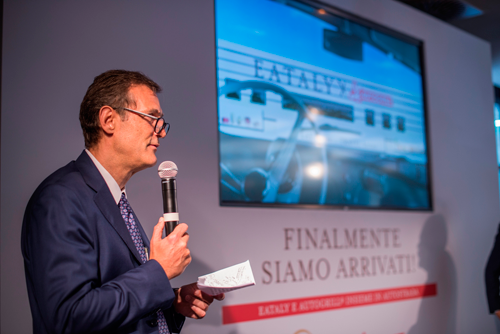 "Collaboration with Eataly underscores our priorities of continuous innovation and the development of a high quality offering. For us, this is the best way to interpret the future, a future increasingly focused on the quality of what we eat and of the places where we stop".
Oscar Farinetti - Founder of Eataly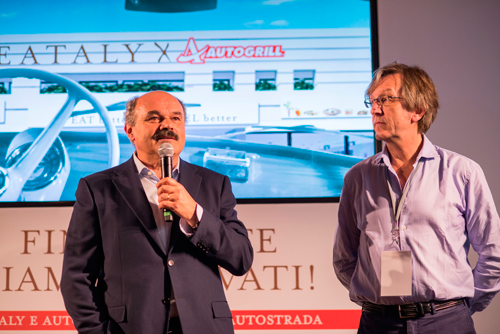 "One part of travelling is the stop-off and the pleasures of a rest. With Autogrill we've designed a stop-off place in line with our principles".