Development of the territories in which it operates is central to the Group
In line with a business model based on territory-wide operations, Autogrill has over the years created a formidable network of relations and collaborations in the markets where it works, including projects in co-operation with local NGOs and institutions.
The Group is committed to supporting the local communities around its points of sale by putting resources and know-how at the disposal of local development plans.
North America
An integral part of this vision is Autogrill's commitment to supporting enterprise and especially in the case of minorities and women, who often come up against serious barriers to entering the labour market. To this end, the Group has its ACDBE Program in place in North America to offer support and provide information and tools for enterprise and innovation initiatives.
This ACDBE program has so far involved over 120 enterprises started up by minority groups and women. One example is a small company run by women, a producer of bottled tea that has received vitally important help in launching and promoting its products. Ellis Island Tea, headed by Nailah Ellis Brown, is available in North American airports and Brown herself has been ranked in Forbes 30 under 30.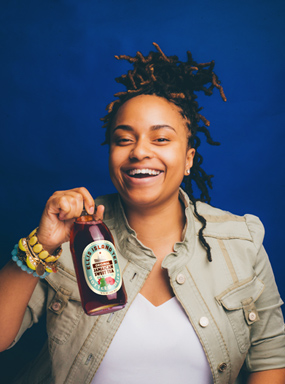 India
In India, Autogrill has launched a training and recruitment program for young people. Its motto is "when everyone's included, everyone wins". There have been numerous initiatives in collaboration with local NGOs to hire and train young men and women coming from disadvantaged backgrounds or parts of India in dire economic straits. The aim here is to contribute towards the wellbeing of communities and give everyone the right opportunities.
An example here is the partnership with Tata STRIVE, an organization whose mission is to actively bridge the gap between professional training and the needs of industry. Another is the collaboration with Pratham, an Indian NGO that has developed an innovative learning method to improve the quality of education. Thanks to collaboration with The Nudge, a not-for-profit organization specializing in training young people from disadvantaged backgrounds in the state of Karnataka, young people can develop their skills and hope in a better future for themselves and their families.
Italia
In Italy, the Group is working with Cometa, an organization that cares for and trains young people living in adverse social conditions. For the conservation and rebuilding of the Autogrill 1958 point of sale at Villoresi Ovest, Cometa's social cooperative (Contrada degli Artigiani) produced a large table made of wine barrel wood (to go in the middle of the restaurant beneath the original chandelier) and an entire wall, also in old wine barrel wood to underscore the theme of sustainability.
Contrada degli Artigiani also created an installation for Autogrill's Food Court at Linate Airport. It's a wall sculpted with brass and back-lit fragments of glass that glitter like gemstones to evoke the graphic style of the old Motta logo and the Gothic spires towering over Piazza Duomo, emblem of Milan and of its city airport.
Looking to the future

On its sustainability journey, Autogrill Group has stepped up its commitment to promoting inclusion both externally, by carrying forward collaboration agreements with organizations and institutions in the places where it operates, and internally by striving to create a workplace even more respectful towards differences. One of its priority targets is to have women in 40-50% of leadership roles by 2030.