Since February, soups made by De Verspillingsfabriek are available at Schiphol Plaza, the main international airport of the Netherlands opened on 16 September 1916, over a century ago.
De Verspillingsfabriek (read the red box in order to discover more) finds a solution allowing the food industry to provide a new use for "lost vegetables": any vegetable considered too small, with wrong shape or wrongly coloured, as well as trimmings, cuttings and stalks, is used to cook delicious soups on the basis of special recipes.
As De Verspillingsfabriek also hates wasting human talent, the soups are made by people with a disadvantage on the labour market. Circular economy, commitment and sustainability are daily on the menu: guests at Schiphol Plaza are now able to savour a variety of soups, but also tastiest sausage rolls, pastries, muffins and brownies baked by Zorgbakkerij van Hutten, a bakery with a focus on sustainability and craftsmanship. Soup & Bakery by De Verspillingsfabriek is a joint initiative of HMSHost International – Autogrill Group subsidiary - Amsterdam Airport Schiphol and De Verspillingsfabriek and is located in the direction of Arrivals Hall 3, open daily from 7 a.m. until 9 p.m.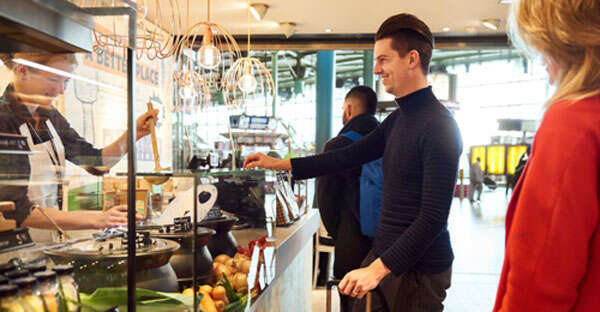 "I'm sure I speak for everyone when I say that we are very proud to welcome this newest addition to Schiphol's hospitality range. A joint approach really allows true change to be realised. This project shows that we waste neither food nor talent, but deploy them to create new products."
- Ad Willemsen, General Manager of HMSHost Schiphol-
Something about Bob Hutten
Bob Hutten, The Surplus Food's founder, couldn't tolerate the loss of food in the Netherlands (at least five billion euros of perfectly good food per year). He decided to find a solution by putting food industry surpluses to good use, installing an elaborate production and cooling systems in Veghel: with a sustainable impact loan from The Rabo Bank, De Verspillingsfabrieko (or, in English, The Surplus Food Factory) opened its doors. The Surplus Food Factory has gathered its food surplus knowledge and expertise at one location.


Cooperative efforts and assistance from like-minded partners are essential to achieving their collective dream: to abolish the waste of both food and talent throughout the world. The Surplus Food Factory has an important point of departure: namely, to take surplus food destined for human consumption and recover it for the same purpose. Their goal is to manufacture cost-effectively within two years, while providing a large group of people less fortunate than most, with new job opportunities. While actively decreasing waste in the food chain, they want their factory to inspire others globally to tackle questions on the subject in order to make a real difference.
We are very proud to be collaborating with HMSHost and Amsterdam Airport Schiphol. This is an excellent example of how social, circular and commercial enterprises can all join together. We need initiatives like this to prove that there are viable alternatives to current practice.
- Bob Hutten, director of De Verspillingsfabriek -
With Zorgbakkerij van Hutten, sustainability and craft take centre stage.
They develop products with less sugar, less salt and less fat, which means that they work with the full variety of animal fats. For Zorgbakkerij van Hutten, less sugar truly means adding less sugar and using as many natural sweeteners as possible. Their assortment consists of over twenty types of biscuits, muffins and brownies, from cranberry, granola, and rocky road, to red beet. Hearing impaired bakers work in their bakeries: the original goal for them was to offer former hearing-impaired students and clients, who couldn't find an ordinary job, a meaningful way to spend their days in a pleasant working environment adapted to their needs: they fully support this objective.