Through its subsidiary HMSHost, global restaurateur Autogrill Group, in partnership with La Plaza International, LLC, was awarded a 10-year contract to bring five new dining options to Seattle-Tacoma Airport to showcase Seattle's iconic brands and local entrepreneurial chefs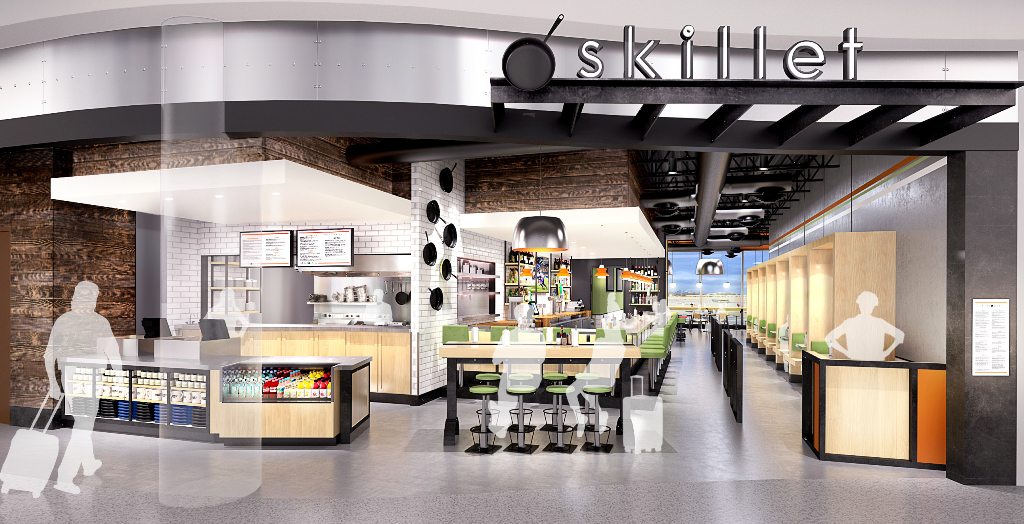 Sunset Fried Chicken
Seattle area favorite Sunset Fried Chicken will greet travelers in Concourse D. The female owned restaurant, led by Chef Monica Dimas, was born in the Capitol Hill neighborhood of Seattle. With this new location, travelers will enjoy its Southern-inspired Northwest comfort cuisine. The same sandwiches that have made a name at Sunset Fried Chicken on Capitol Hill also grace the menu at Sea-Tac Airport, most notably The OG sandwich featuring fried chicken, dill pickles, tangy cabbage slaw, and mayonnaise on a toasted bun; this new airport location will also feature a rotation of seasonal handcrafted ginger beers from Rachel's Ginger Beer for travelers to enjoy.
Skillet
Autogrill Group will also bring Skillet with two locations – one in Concourse C and the other in North Satellite. Hometown brand, Skillet has redefined and elevated street food from its original vintage Airstream food truck to its three brick and mortar restaurant locations throughout Seattle. Skillet brings iconic Pacific Northwest landscape and dynamic local flavors - including its cinnamon rolls, the award-winning kale Caesar salad, decadent mac and cheese, as well as various vegetarian offerings - to a menu that is easily portable for travelers.




Seattle Beer Union  
Seattle Beer Union in Concourse A will offer travelers a taste of the Pacific Northwest's beer scene, as well as local spirits and wine. To complement its numerous beverage offerings, travelers can also feast on a menu crafted by acclaimed Seattle Chef Jason Stoneburner.
Starbucks
A new Starbucks® store location will also debut in the baggage claim offering arriving Seattle travelers and all airport visitors their favorite coffee and snacks.



HMSHost opened the first Starbucks® airport location more than 25 years ago in Sea-Tac Airport and has since been a leading licensing partner of the brand with nearly 400 locations in travel venues today.