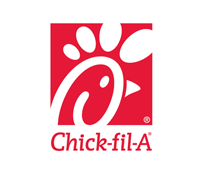 It's a historic brand of quick service restaurants with a menu based on chicken specialties, leader in the United States with over 1,800 outlets in 41 States.
Chick-fil-A is one of the largest American fast food restaurant chains and the largest whose specialty is chicken sandwiches.
Its headquarters is in College Park, Georgia. Chick-fil-A was originally founded as the Dwarf Grill in 1946, changing the name to Dwarf House until rebranding as Chick-fil-A in 1967.