The first motorway Bistrot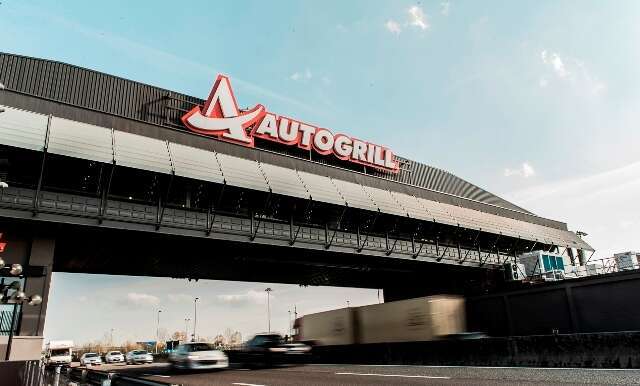 The new Bistrot opened in the Arda service area in Fiorenzuola d'Arda (Piacenza) on the A1 Turin-Piacenza-Brescia motorway, where two major flows of travellers and two important culinary traditions, those of Piacenza and Parma, meet.
The Fiorenzuola d'Arda location was the first bridge-type motorway diner in Europe, in 1959, and is still one of the most eloquent icons of Italy's modernization and economic boom. The Group's renovation of this location has changed both the lateral pillars and the bridge level.
The service area is once again under the spotlight, this time as the site of the first motorway Bistrot, an expression of a new food culture – travelling but not only – and of Autogrill's sharpening focus on its consumers' changing needs and eating styles and its development of a new offering for on-the-road customers.
A new offering for on-the-road customers
The new Bistrot devotes much space to select local produce, and in-season and short supply chain items in particular, thus offering customers a unique experience that brings together the flavours of local culinary traditions, at affordable prices, and the values of sustainability.
The offering in the location's two "legs" includes a bakery (Il Forno) which has its work area visible to customers and features a wide assortment of pizzas, numerous types of bread made with sourdough and local cakes and pastries, such as the typical Torta di Vigolo (from Pasticceria Perazzi, a long established firm in the province of Piacenza), a Caffetteria, where genuine Neapolitan coffee made in the traditional "cuccuma" can be enjoyed, and a fresh fruit & veg area (Il Frutteto) which prepares a generous choice of centrifuged juices, fresh smoothies and fruit salads.
Up on the bridge, on the other hand, travellers can try 1st course specialities from Il Pastaio, which, in full view of the customers, produces a variety of fresh pasta (bronze-drawn) using flours from I Molini di Voghera; street food style 2nd courses at Cucine di Strada, which has a barbecue grill for meat (from Azienda Agricola Morini, just 20 km from Fiorenzuola, for example); and cold dishes and salads from the delicatessen (La Gastronomia).
The offering is rounded out by a number of market points featuring select high quality products from local producers, such as vinegar from Acetaia Bellei, which has a history of over 600 years.
Autogrill and Fiorenzuola d'Arda
The Fiorenzuola d'Arda location was the first bridge type motorway diner to be built in Europe, in 1959.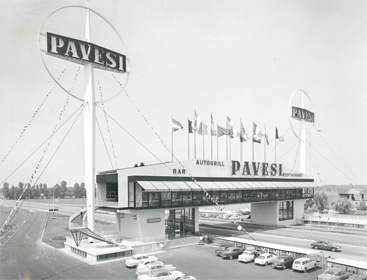 It was designed by Angelo Bianchetti, (born in 1911 and graduated in architecture at Politecnico di Milano in 1934) and was the prototype for subsequent bridge-type f&b locations.
The Fiorenzuola d'Arda service area has always been an innovative facility in step with the times and has thus reflected growth in the country over the last 50 years and the habits of generations of Italians travelling on the "Autostrada del Sole".