Customer engagement
"Customer voice" new plattform

active

in 135 locations

In Europe

"Feel good?"

2018

a new approach

of customer understanding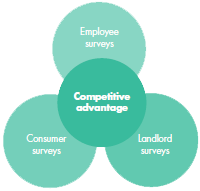 Our policy is based on listening to customers, consumers and to all those people that our work has an impact on, as well to our staff.
Their voice is at the core of our organisation: through programmes, surveys and research projects, we understand the needs of the market and of those consumers who play a key role as supporters, partners and agents of change.
Feel good
"Feel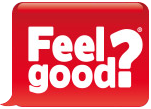 good?" is Autogrill Group's customer satisfaction rating system, created in 2009 to measure perceived quality so that measures can then be taken to improve the services, goods and brand reputation. In 2018, the programme also used a new surveying method that could better measure the strength of customer relationships and drive strategic decisions.

"Customer voice" is instead a new programme that, using an interactive platform, enables customers to share their experience of the store, give details and ideas for improvement.
Supply chain
Supplier Code of

Conduct

in North America and International

Autogrill Group

Supply Chain

Guidelines
The relationship with suppliers is extremely important to have consistently good products and services that measure up to expectations. As for any corporate process, the selection of suppliers is also aimed at finding quality, flexibility and the highest professional standards.
Autogrill Group Supply Chain Sustainability Guidelines
Our care for establishing a sound relationship with our suppliers – of goods and services – involves our ethical principles as well as the quality and safety of our products.
For this reason, we have published the Autogrill Group's Supply Chain Sustainability Guidelines, in partnership with the Global Compact Network Italy Foundation, laying down general supplier-assessment standards and the basic principles underlying the Group's sustainable Supply Chain Management Approach.
In the Europe area, suppliers do not only adhere to the Ethical Code, they also have to abide by specific social and environmental criteria, while in North America they must endorse the "Supplier Code of Conduct", with rules on the purchase of food and soft drinks.
Lastly, the International area has embedded the Supply Chain Sustainability Guidelines in all of its new supplier agreements, with the suppliers expressly committing themselves to endorsing their principles and contents.
To find out more: Autogrill Group Supply Chain Sustainability Guidelines.
Innovative cooking
Thanks to the new project

Agile

extension of healthy sandwiches and salads offer

at the bar Area

Program

Eat Well Travel Further and Fresh Attractions

in North America
Development of new products
In Italy, our partnership with Università degli Studi di Scienze Gastronomiche of Pollenzo led to the birth of the Bistrot concept, based on an accurate selection of foods and wines and the preservation and adaptation of traditional local recipes. Autogrill is a partner of Magenta Bureau in the organisation of the Culinary Council. Last year, through such partnership, Autogrill took part in Identità Golose, one of the most important yearly culinary events in the world, bringing the latest innovations and experiments of the Bistrot concept.
HMSHost sponsors the James Beard Foundation Awards, a yearly ceremony that rewards the best culinary talents and nutrition education in the USA.
Spazio Fucina and the Culinary Council
In Italy, Spazio Fucina is a veritable research laboratory where the company's chefs and guests known all over the world test new ingredients, develop new ideas, recipes and culinary concepts, translating the inputs of the new eating trends, the evolution of nutritional standards and cooking technology into products that add up to the range of eating options available in the Group's stores. The experimental kitchen, an embodiment of the innovative approach that Autogrill stands out for, is also the place in which new technology is tested to find new ways of preparing and serving food, such as using less electricity without compromising on the taste of the food.
The Culinary Council is an international culinary innovation programme through which Autogrill is helped by experts in sociology of consumption, food writers and famous people working with food (from world-known chefs to nutritionists) to develop innovative menus for its stores.
Eat Well Travel Further
In the USA, HMSHost has launched "Eat Well. Travel Further", a pilot project focussed on providing ready-made products and related services for specific nutritional and dietary needs, such as highly-nutritional high-protein "lunchboxes" and probiotic drinks. Even in the International area, Autogrill has worked at offering specific products for people with special dietary needs, by expanding its range of gluten-free, high-protein, lactose-free and halal foods.
Quality and certifications
ISO 9001: 2015

in quality

management systems

Diverse Food Safety

program

Food security

Standard

Food Safety

and Standards Authority

of India
Our Management System starts with the selection of the suppliers and is based on an in-depth sharing of values and goals between the Group and its business partners. In addition to the usual assessment and monitoring procedures, a self-auditing plan has been added to the Management System of each country, which covers a whole range of procedures that take place in the stores and are centrally coordinated, to make sure all health and safety standards are complied with.
Both in North America and Europe, suppliers undergo preliminary assessments to rate how well they meet the Company's quality standards, according to H.A.C.C.P. procedures (Hazard Analysis and Critical Control Points) which involve accurate microbiological, chemical, physical and product tests across the supply chain, the frequency of which depends on a preliminary risk assessment.
In the International area too, compliance with local standards in every country is guaranteed by specific procedures and in compliance with the H.A.C.C.P. standards, in a continuous improvement process that is leading the stores to achieve the ISO 9001 certification as well.
Main certifications
| Certification | Applies to: |
| --- | --- |
| ISO 9001:2015 on Quality Management Systems | Italy: Autogrill SpA and Nuova Sidap |
| UNI 10854 (self-screening based on HACCP) | Italy: Autogrill S.p.A. and Nuova Sidap |
| ISO 22000 on Food Safety Management | Italy: Autogrill SpA |
| ISO 9001:2015 (provision of technical project management services) | Greece: Autogrill Hellas EpE |
| ISO 9001:2015 (provision of technical project management services) | Italy: Autogrill SpA |
| BS OHSAS 18001:2007 | Italy: Autogrill SpA - airport stores |
| Halal certification from MUI (Majelis Ulama Indonesia) | Pizza Hut at Bali airport, stores at Bangalore airport (HMSHost International), Majia Sumai (China), Pizza Hut and Burger King in Jakarta, airport stores at Bangalore and Hyderabad (HMSHost International) |
| Diverse Food Safety program | Stores in Bali (HMSHost International), stores at Schiphol airport (HMSHost International) |
| FSSAI (Food Safety and Standards Authority of India) | Airport stores at Bangalore and Hyderabad (HMSHost International) |
| NVWA (Netherlands Food and Consumer Product Safety Authority) | Stores at Schiphol airport (HMSHost International) |
| EIQA Irish Food Safety Quality Awards | HMSHost Ireland (every year since 2010) |
| Board Bia Origin Green sustainability awards | HMSHost Ireland (obtained in 2017 and retained in 2018) |
| Shop & Establishment/Trade | India |
Animal Welfare
In Holland

agreement

with a zero-impact

organic farm

Eggs

from free

range hens in all countries

by 2025
To date, Autogrill Italia uses only eggs in shell and egg products from free range hens (as minimum standard) for directly operated points of sale and proprietary brands. The Company was one of the first in the industry to adopt a practice that in 2009 enabled it to win a Good Egg award from Compassion in World Farming, the foremost International advocate of wellbeing for farm animals, for its commitment to using only eggs in shell from hens not raised in cages.
In March 2016, HMSHost, the Group's American subsidiary, announced it was switching to using cage-free eggs in its over 2,000 restaurants in airports and on motorways in the United States by 2025. In The Netherlands, HMSHost International entered an agreement with Kipster, the award-winning zero-impact organic farming business that guarantees the highest standards of animal welfare on its farms. An approach that enabled it to win three Better Life Label Stars and obtain Planet Proof certification for its egg production.
The practice is currently in place also in most of the European countries in which Autogrill Europe has operations, the objective being to gradually extend it to all directly operated proprietary concepts. The Group's European subsidiary is thus committed to switching to cage-free eggs in all its European points of sale by 2025.