Customer engagement
New program in the

U.S.A.

Eat Well Travel Further

New opening of

Kebaya

Asian Restaurant

with Quick Service App

Increased in customer satisfaction

+3.4%

2014-2017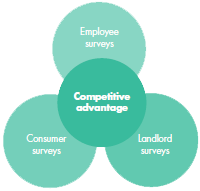 A policy that targets listening, involving all the stakeholders, implies the participation of the different subjects involved in the Group's activities, facilitated through the development of effective communication channels and the maintenance of a constructive relationship over time.
In 2016, the Group consolidated this area of activity through the development of a state-of-the-art marketing to data collection and analysis. For these studies, Autogrill relies on the Intelligence platform that enables the Group to capture emerging trends by using a holistic and innovative approach to data collection and analysis. For these studies, Autogrill relies on platforms that analyze both qualitative and quantitative data of worldwide trends and also conversations on social media. Moreover, dedicated solutions are applied for more detailed research analysis on specific markets of reference. Lastly, advanced neuro-marketing and emotional marketing tools are implemented to quickly understand consumer needs in addition to web based sentiment listening techniques and periodic monitoring of KPIs on the Group's social media.
Starting in 2018, the goal is to implement a new method of assessing customer satisfaction that will better measure the strength of customer relations and guide strategic decisions by anticipating and integrating the customer understanding approaches followed in the individual areas. Scalable and adaptable, the new method will provide a better understanding of the key factors that guide customer relationships and emotional.
Feel good
"Feel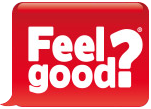 good?" is the Autogrill Group customer satisfaction project, designed in 2009 with the purpose of measuring the quality perceived by consumer in order to be in a position to develop targeted actions to improve the service, products and brand image.
The ninth edition of "Feel Good?" was completed in 2017 in selected locations in Belgium, France, Germany, Italy, the Netherlands, Spain, The United States and Switzerland. Autogrill asked its costumer to fill out an on line questionnaire on issues regarding the offering, the service, cleanliness  and the atmosphere in the stores, while participating in a prize contest.
Supply chain
Collaboration with

PoliMi

Politecnico of Milan

Autogrill Group

Supply Chain

Guidelines
Suppliers
Establishing good relations with suppliers is essential to obtaining products and services that consistently meet expectations. As in any corporate process, supplier selection is deeply rooted in the search for quality, flexibility and maximum professionalism.
Autogrill Group Supply Chain Sustainability Guidelines
The management of the ethical, environmental and social impact at all levels of the supply chain will become increasingly crucial for the Group's success in the coming years. For this reason, the supply chain has been identified as a key dimension in the new 2016-2018 A Future Roadmap, with a view to increasing Autogrill Group's commitment to sustainability best practices. As a result, the Company drafted the Group's Supply Chain Sustainability Guidelines, a new document that defines the general standards to assess suppliers and the key principles that outline the Group's approach to sustainable management of its supply chain (Supply Chain Management Approach).
You can find more information at the following link: Autogrill Group Supply Chain Sustainability Guidelines.
Culinary Innovation and raw materials
Thanks to the new project

Agile

extension of healthy sandwiches and salads offer

at the bar Area
The development of new products
In Italy, the collaboration with the University of Gastronomic Sciences in Pollenzo resulted in the development of the Bistrot concept, based on an accurate selection of wines and food products and on the recovery and revisiting of local dishes.
Since 2012, Autogrill collaborates with Magenta Bureau in the organization of the Culinary Council. Last year, thanks to this partnership, Autogrill participated to Identità Golose, one of the most important annual appointments in the international culinary panorama, presenting the latest innovations and experiments accomplished by the Bistrot Concept.
Since 2015, HMSHost has sponsored the James Beard Foundation Awards, the annual ceremony organized by the Foundation of the same name, rewording culinary excellence and food education in the United States.
Spazio Fucina and the Culinary Council
In Italy Spazio Fucina is a true research laboratory, where chefs of the organization, renowned Italian and international cooks, test ingredients, develop ideas, recipes and concepts, translating inputs deriving from emerging dietary trends, the evolution of nutritional standards and food technology in products that enrich the commercial offering of Autogrill stores. The experimental kitchen is also a symbolic place, testifying to Autogrill's innovative approach, and it is also where new technology is tested for product preparation and distribution processes, creating new ways to maintain products' organoleptic characteristics while also trying to save energy.
The Culinary Council is an international program of culinary innovation through which Autogrill benefits from a collaboration with sociologists specialized in consumer behavior and prominent professionals from the catering sector (world famous chefs and nutritionists) to receive a scientific contribution for the development of balanced menus. Every year the Culinary Council focuses on a specific theme: in 2016, the theme was "ATTENTION TO DIVERSITY trends and concepts", i.e. Concepts, products and new consumption criteria linked to cuisine, privileging veggies and organic products and with special attention to the world of organic intolerance.
Eat Well Travel Further
In the United States, HMSHost has launched a pilot project called "Eat Well. Travel Further" based on ready-to-eat products for specific nutritional and dietary needs, including paleo and protein boxes and probiotic drinks. In the International area, too, Autogrill has expanded its options for people with special dietary needs, such as gluten-free, high protein, lactose-free and halal.
Raw Materials
A new Kimbo Fairtrade coffee blend was introduced in the Bistrot in 2016.
In North America HMS HOST is increasingly working with regional suppliers in order to meet consumers demand for local produce. In 2015 HMSHOST increased this type of supplies by over 20%. The Company also supports a training initiative regarding a new urban agriculture, the Windy Harvest Youth Farm of Chicago, promoted  by the Chicago Botanical Gardens and targeted to supporting the local  agro-food system, while promoting healthier communities and a "greener economy".
In March 2016, HMSHost announced that by 2025 all of its restaurants in the US would use free-range eggs. The initiative has already been implemented in several airports, including Los Angeles International Airport, Charlotte Douglas International Airport, Chicago O'Hare International Airport and McCarran International Airport in Las Vegas.
All coffee and tea sold by HMSHost at Amsterdam Schiphol airport is Fairtrade or UTZ certified, one of the main certifications at international level for the production of sustainable coffee, tea or cocoa.

Quality and certifications
ISO 22000 in

Greece

Autogrill Hellas EPE

on Food Security

For point of sale

NVWA

(Dutch Authority Food and Services)

Schiphol Airport (HMSHost Intl.)

Standard

Mistery Audit

11312

(1st Company in Europe)
Our management system begins with the supplier selection process and is based on values and objectives that are strongly shared by the Group and its trading partners. Evaluation, pre-approval and control are all necessary to ensuring high quality standards for products and services. To that end, suppliers are periodically screened by way of questionnaires, direct or indirect information gathering, spot checks and, where necessary, audits. The quality of materials procured is monitored constantly through monthly checks against product specifications and ongoing dialogue between locations, central support units, and suppliers so that any corrective measures can be taken.
In North America and Europe, suppliers go through a pre-approval process to test their level of compliance with the Group's HACCP (Hazard Analysis and Critical Control Points).
In North America there is a new audit program that traces all new small suppliers in a database and provides a support tool so they can meet the required quality assurance standards.
In addition to these assessments and controls is a self-screening program falling within the management system used in the various countries: a set of centrally coordinated procedures that are carried out on-site to ensure compliance with all hygiene and sanitary standards.
In 2017 an estimated 95% of food products and 99% of non-alcoholic beverages underwent quality controls and audits. Quality control is assured for all operations in the International area by verifying compliance with the local standards in each country in accordance with specific procedures and HACCP guidelines, in a process of ongoing improvement that is helping several locations obtain ISO 9001 certification
Main certifications
| Certification | Applies to: |
| --- | --- |
| ISO 9001:2015 on Quality Management Systems | Italy: Autogrill SpA and Nuova Sidap |
| UNI 10854 (self-screening based on HACCP) | Italy: Autogrill S.p.A. and Nuova Sidap |
| ISO 22000 on Food Safety Management | Italy: Autogrill SpA |
| ISO 9001:2015 (provision of technical project management services) | Greece: Autogrill Hellas EpE |
| ISO 9001:2015 (provision of technical project management services) | Italy: Autogrill SpA |
| BS OHSAS 18001:2007 | Italy: Autogrill SpA - airport stores |
| Halal certification from MUI (Majelis Ulama Indonesia) | Pizza Hut at Bali airport, stores at Bangalore airport (HMSHost International), Majia Sumai (China), Pizza Hut and Burger King in Jakarta, airport stores at Bangalore and Hyderabad (HMSHost International) |
| Diverse Food Safety program | Stores in Bali (HMSHost International), stores at Schiphol airport (HMSHost International) |
| FSSAI (Food Safety and Standards Authority of India) | Airport stores at Bangalore and Hyderabad (HMSHost International) |
| NVWA (Netherlands Food and Consumer Product Safety Authority) | Stores at Schiphol airport (HMSHost International) |
| EIQA Irish Food Safety Quality Awards | HMSHost Ireland (every year since 2010) |
| Board Bia Origin Green sustainability awards | HMSHost Ireland (obtained in 2017 and retained in 2018) |
| Shop & Establishment/Trade | India |
Animal Welfare
Animal Welfare
To date, Autogrill Italia uses only eggs in shell and egg products from barn hens (as minimum standard) for directly operated points of sale and proprietary brands. The Company was one of the first in the industry to adopt a practice that in 2009 enabled it to win a Good Egg award from Compassion in World Farming, the foremost International advocate of wellbeing for farm animals, for its commitment to using only eggs in shell from hens not raised in cages.
In March 2016, HMSHost, the Group's American subsidiary, announced it was switching to using cage-free eggs in its over 2,000 restaurants in airports and on motorways in the United States by 2025. In The Netherlands, HMSHost International entered an agreement with Kipster, the award-winning zero-impact organic farming business that guarantees the highest standards of animal welfare on its farms. An approach that enabled it to win three Better Life Label Stars and obtain Planet Proof certification for its egg production.
The practice is currently in place also in most of the European countries in which Autogrill Europe has operations, the objective being to gradually extend it to all directly operated proprietary concepts. The Group's European subsidiary is thus committed to switching to cage-free eggs and egg products in all its European points of sale by 2025.