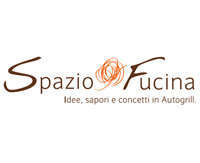 Underground, in the heart of our headquarters, there is a special place.
Where people create, experiment and debate.
This is Spazio Fucina, somewhere we have dedicated to gastronomic innovation.
A theatre of encounters, of contamination and research, it was conceived as an incubator for ideas.
Down here, we bring our flavours to life. We elaborate concepts. We test technologies.
Inside the Fucina
"To digest knowledge, you should eat it with appetite"     A quote by Anatole France greets all those who step over the threshold. The real star of the Spazio Fucina is knowledge, applied to the experience of taste, in all its aspects. Here, nothing is left to chance – we reproduce our environments in order to study them close up.
The snack bar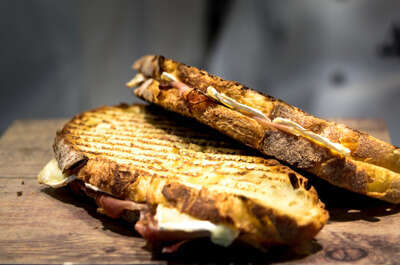 As you enter, the first thing you see is a small Acafè. In that corner of reproduced reality, we talk about how to improve the coffee experience: we test the coffee machines, taste the blends, study the materials and the shapes of cups so that they enhance the coffee to the max.

Next to it is the sandwich display cabinet. This is where we experiment our prototypes and recipes for new sandwiches. Here we tasted the new Camogli and Fattoria for the first time, those icons of the journey break, reworked to suit contemporary taste. And here again we tried out the new HSG Electrolux griddles that have improved how we serve our sandwiches.
The restaurant
Further on, there is a room dedicated to restaurant menus and dishes. On the walls, the recipes undergoing study. There are usually trays on the table, probably because someone is studying their shape to enhance taste, delight the eye and make them easier to handle.
To one side, the kitchens. This is where idol chefs of the calibre of Jeremy Bearman, Cristina Bowerman, Moreno Cedroni and Simone Salvini have performed.
The meeting room
At the end, beyond the restaurant section, there is what from a symbolic point of view is perhaps the most important zone: an area for discussion and dialogue and where new products are imagined.
A place where knowledge meets up
In the Spazio Fucina we bring to life new products that enhance our range.
All this thanks to the contribution of chefs and dietary experts who share ideas, recipes and gastronomic concepts, starting with emerging eating trends, the evolution of nutrition standards and food technologies.
The Culinary Council
Developed in collaboration with Identità Golose, the Culinary Council is an integrated programme of innovation with which Autogrill intends to develop the food range of its network of sales points, both in Italy and in other countries, counting on the collaboration of well-known names in the food service sector.
The project is part of the Autogrill strategy that aims to spread a food culture suited to the new ways of travelling and able to satisfy, in terms of product and service, the needs of consumers who are increasingly better informed and more aware of their food choices.