Taking the first step at the right time: great journeys and successful adventures always start like this. The key is knowing where to go and the road to get there, having the right baggage and travel companions, and—above all—setting out at the right time. Autogrill approached its new adventure in China bearing all this in mind. 
Growing in Asia:
China, after Malaysia, Singapore, India, Vietnam, and Indonesia.
Autogrill started expanding in Asia in 1998, at first in Malaysia and then, in 2007/2008, Singapore and India. In the last few years, it has stepped up the pace by entering Vietnam and Indonesia. Now it is making the big leap, establishing a presence in China's airport catering industry.
Under two agreements entered into by the HMSHost International division, in 2015 the Group will open 10 points of sale at the international airports in Beijing and Sanya.
But this is not Autogrill's first foray into the country...
A new China for an increasingly international group
China has moved through the first fifteen years of the Third Millennium at a breakneck pace. Today, the Asian giant is a radically different country. Analysts expect it to become the world's largest economy in 2016.
Its explosive and ongoing development has changed the habits and customs of the most populous country in the world. Economic growth has given rise to a middle class whose members do not want to spend their income just on primary needs, but also on goods and services; in 2020, this segment will represent 51% of the population1.
China is thus on the cusp of a consumption revolution: people will spend not just on food, but also healthcare, clothes, culture, leisure, and travel.
This is fuelling the demand for air travel and the impressive growth of Beijing's airport—from 21 million passengers in 2002 to an estimated 69 million in 2015—soon to be the world's busiest airport.
The grat race of China's airports: Bejing airport, future global leader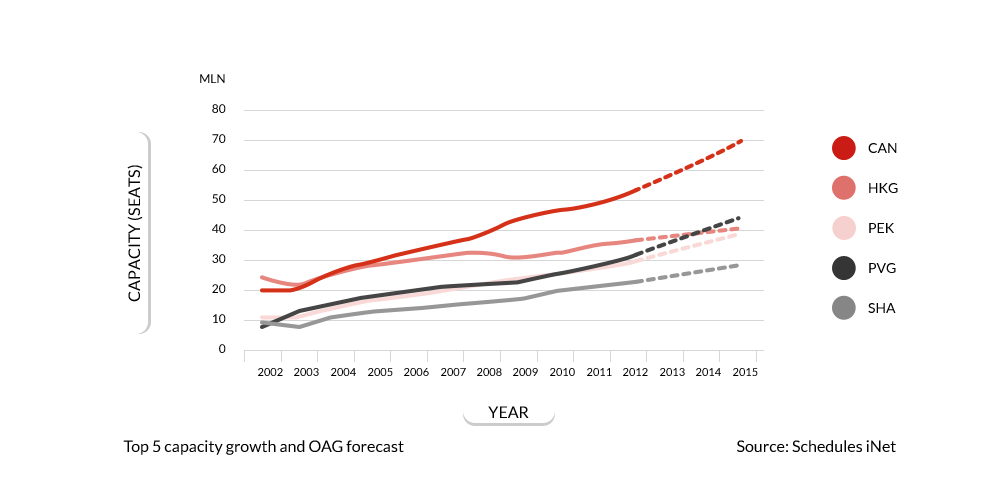 This is how China presents itself through its airports in 2015: a colossal and finally mature market that stands ready to change the pecking order of the global airport industry. We must live up to this challenge.
Beijing and Sanya as launch pads
"By establishing a presence in two airports that are strategic for China and the whole region, Autogrill intends to grasp the growth opportunities provided by the country through select food offerings—the result of the know-how acquired in several years of experience throughout the world"
-Walter Seib,  HMSHost International CEO –
Autogrill promptly saw China's development as an opportunity to further its strategy to expand internationally and focus on the airport channel, in accordance with the Group's growth plans.
The Group entered into agreements to open 6 points of sale at the airport in Beijing and 4 at the one in Sanya before the end of 2015. Those are two crucial nodes: the former is poised to become the world's busiest airport, and the latter serves one of China's main tourist destinations.
Understanding the customer: the road to success
Autogrill will not embark on this journey alone: it will work together with leading Chinese food&beverage companies under the previously mentioned agreements.
Specifically, it will partner with Huazhuo in Beijing and Cosmos in Sanya.
This way, the Group intends to leverage as much as possible its know-how in operating airport restaurants with the help of a guide familiar with the tastes and preferences of Chinese consumers.
Autogrill will follow the formula that allowed it to become the world's leader in travel catering—innovative concepts and successful global brands, tailored to the specific characteristics and needs of customers looking for local flavours and culinary traditions. A glocal approach, combining local and international franchises with Italy's reputation for quality, that will serve as the Group's hallmark in the world's largest market over the next decades.
Autogrill at Beijing's airport
For the 6 locations at Beijing's airport, Autogrill has developed a food&beverage offering comprising local, international and Italian brands: 2 Crystal Jade stores, a local franchise specialising in recipes from China's food and wine culture; Puro Gusto, delivering an Italian bar experience enhanced with features of Anglo-American coffee shops; Grab & Fly, providing an international range of last-minute snacks and drinks; Burger King, the world-famous hamburger chain; and Urban Food Market, a metropolitan restaurant concept offering "street food" for travellers.
Autogrill at Sanya's airport
Autogrill will bring four different concepts to the over 800 square metre food service space at Sanya's airport. The two locations operated directly by Autogrill will house Juicy Details, offering fresh fruit juices and smoothies to travellers, and Taste of China, known for serving traditional Chinese recipes. The two locations under sub-concession will house KFC, catering to the tastes of travellers looking for international products, and Jui Mao Jui, specialising in delights typical of northern China.
1 Source: Meet the Chinese consumer of 2020, McKinsey Quarterly